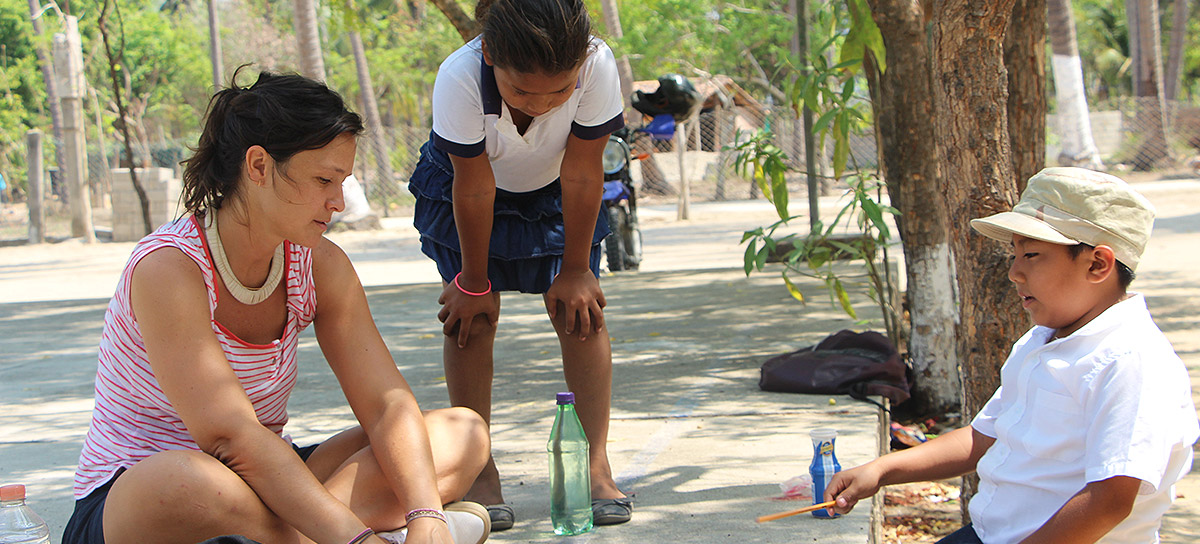 ....
Donde vivimos
Se trabajó con todos los alumnos de la primaria Emiliano Zapata de la comunidad El Venado. Todas las sesiones se realizaron dentro de la comunidad.
La idea central del proyecto fue realizar un mural, dentro de la escuela, hecho en su mayoría por los niños y coordinado por la residente. El mural tenía como idea central hacer una recolección de las plantas y animales que habitan en la comunidad y en el ecosistema costeño. Se realizó una lluvia de ideas para que los participantes nombraran todas las especies que conocen para después dibujarlas, esos primeros trazos sirvieron de modelo para realizar el diseño general del mural. La residente les mostró imágenes de su propio trabajo y de historia del arte para animar a los niños a ser más creativos con el color y la forma de representar las cosas. Las sesiones de pintura fueron muy libres, dejando que los niños tomaran el control sobre los elementos que serían pintados y qué apariencia tendrían, tanto en color como en forma. El resultado final es un mural de 6 x 3 metros, que se ubica en uno de los edificios del colegio, pero que se aprecia desde la calle principal de la comunidad, para que todos los habitantes puedan apreciarlo.
_
Where we live
We worked with all the students of the Emiliano Zapata primary school in the El Venado community.
All sessions were held within the community.
The central idea of the project was to make a mural, inside the school, made mostly by the children and coordinated by the resident. The main idea of the mural was to collect the plants and animals that inhabit the community and the coastal ecosystem. A brainstorming session was held so that the participants could name all the species that they knew and then draw them. These first strokes served as a model for the general design of the mural. The resident showed them pictures of their own work and art history to encourage children to be more creative with color and the way they represent things. The painting sessions were very free, letting the children take control over the elements that would be painted and what they would look like, in both color and shape. The final result was a 6 x 3 meter mural, which is located in one of the buildings of the school, but can be seen from the main street of the community, so that all the inhabitants can appreciate it.
_