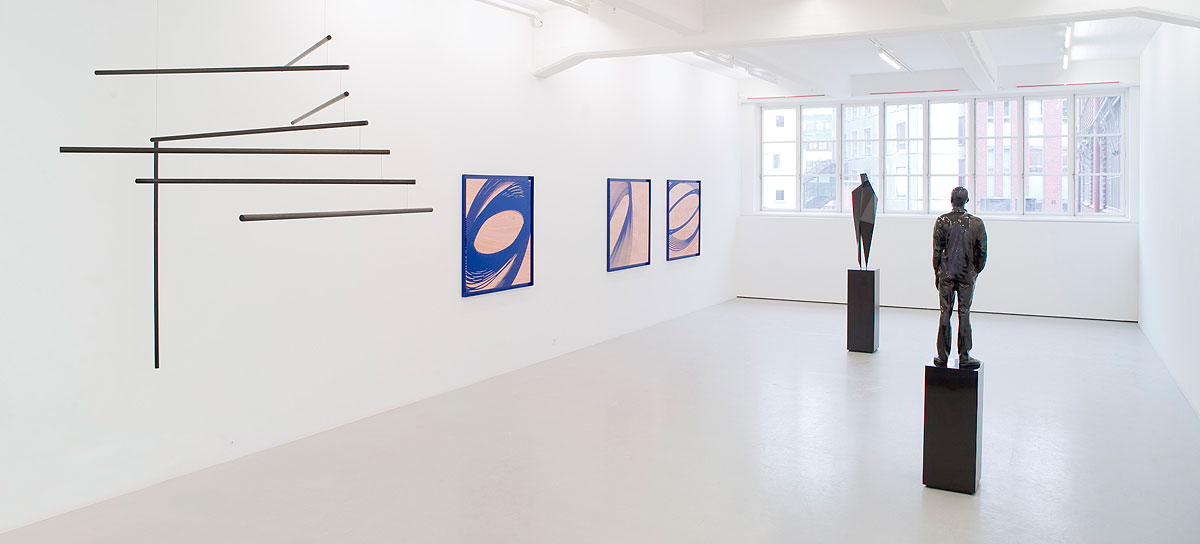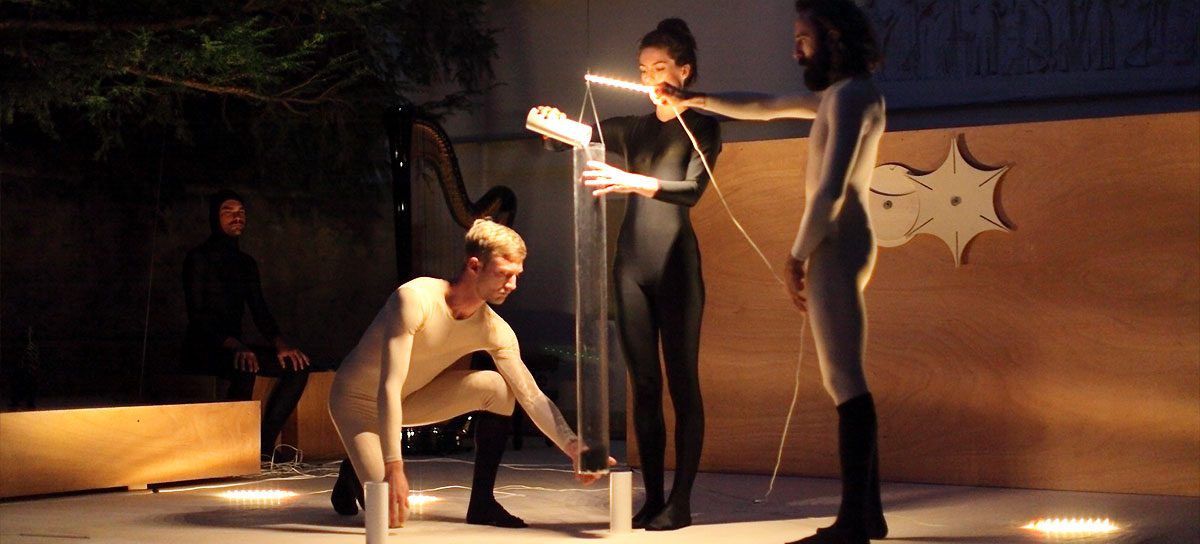 ....
Desde mediados de los años 80's, el artista francés Xavier Veilhan (nacido en 1963, residente en Paris) ha creado un aclamado grupo de obras definido tanto por sus intereses dentro del lenguaje de la modernidad (velocidad, movimiento, vida urbana, etc.) así como de la escultura clásica, a la cual le ha dado su propia reinterpretación contemporánea. Xavier utiliza una amplia gama de materiales y técnicas para producir retratos y paisajes tridimensionales, bestiarios, y arquitecturas que siempre oscilan entre lo familiar y lo extraordinario. Sus exhibiciones e intervenciones in-situ en ciudades, jardines y casas, cuestionan nuestra percepción al crear la evolución de un espacio ambulatorio, dentro del cual la audiencia se convierte en un participante activo (Veilhan Versailles, 2009; Veilhan en Hatfield: Promenade, 2012; la serie Architectones , 2012-2014). Al asociar escultura, escenografía, música y figuras vivas, Xavier crea las obras para crear las exposiciones. Estas estéticas revelan un continuum de forma, contorno, estaticidad y dinámica, que invitan a que el espectador haga una nueva lectura del espacio; creando a su vez un gran repertorio de signos, el teatro de una sociedad.
En frecuente intervención del espacio publico, Xavier Veilhan ha instalado esculturas en varias ciudades de Francia: Bordeaux (Le Lion, 2004), Tours (Le Monstre, 2004), Lyon (Les Habitants, 2006) – como tambien en el exterior: Nueva York (Jean-Marc, 2012), Shanghai (Alice, 2013), Suecia (Julian, 2014), Seul (The Skater, 2015). Su última performance, SYSTEMA OCCAM, para una composición musical de Eliane Radigue, fue presentada en el 2013 en Marsella y Nueva York, y en el 2014 en el museo parisino Eugène Delacroix.
El fin del año 2014 marcó su transformación del Château de Rentilly (Frac Ile-de-France, Marne et Gondoire), mientras que en marzo del 2015 su proyecto Architectones se radicó con el lanzamiento del documental y el libro que lleva el mismo nombre. Al mismo tiempo, la doble exposición Music fue presentada en la Galería Perrotin de Nueva York y de Paris.
Actualmente Xavier se enfoca en nuevos trabajos cinematográficos en colaboración con el festival "Cinéma en Plein Air" (La Villette, Paris) y la Opera National de Paris, mientras prepara exposiciones individuales en Sao Paulo y en Estocolmo.
Xavier Veilhan es representado por Andréhn-Schiptjenko, Galerie Perrotin, Galeria Nara Roesler y 313 Art Project.
_
Enero - Febrero 2016
Proyecto comunitario

www.veilhan.com
..
Xavier Veilhan's sculptural interventions are bold and transfixing, while complementing existing architecture and altering how viewers look at their surroundings. His "Architectones" series pays tribute to Kasimir Malevich's "Architectons," three-dimensional models that blend architecture with philosophy. In "Architectones," Veilhan installed sculptures in celebrated, modernist homes; each work was unique to the setting and placed in dialogue with the building's architecture. A sixty-foot bust of Le Corbusier was set atop the architect's Cité Radieuse in Marseille, for example. Through faceted, distorted shapes, Veilhan's structures capture energy by revealing the movement surrounding them. In 2009, Veilhan's work was displayed in the Palace of Versailles and its surrounding gardens, juxtaposing traditional architecture against minimalist, futurist-inspired sculpture, with the ultimate goal of enhancing the former.
_
January - February 2016
www.veilhan.com
....