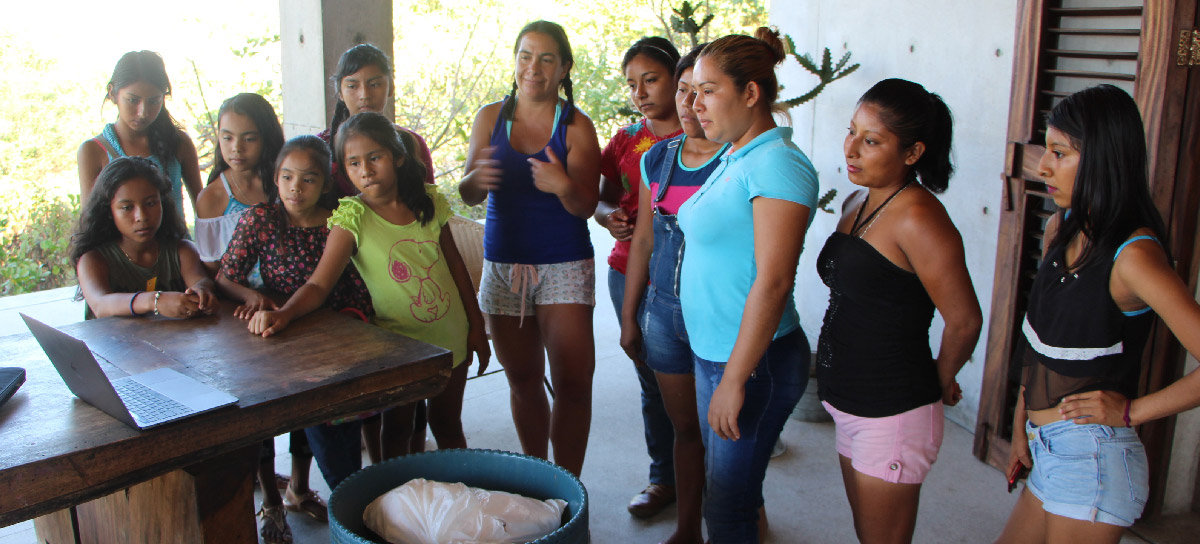 ....Ocarinas de barro
Tania trabajó con la telesecundaria de Agua Zarca y con los alumnos de 5to y 6to grado de la primaria Miguel Hidalgo durante 2 sesiones. El objetivo del proyecto fue crear un ensamble de ocarinas y registrar los distintos sonidos que se pueden obtener de ellas para crear un material audiovisual con dichos resultados. Las dos sesiones se impartieron en Casa Wabi. La primer sesión se les presentó el proyecto a los participantes, se les mostró un video documental sobre los diferentes tipos de ocarinas que existen en México y de los distintos sonidos que éstas producen, posteriormente se pasó a la eleboración y manufactura de las ocarinas dentro del Pabellón de Barro de Álvaro Siza, donde cada alumno tuvo oportunidad de crear dos ocarinas de distinto sonido. Tras la quema de las piezas se organizó la segunda sesión, la cual consistió en llevar a los participantes al observatorio de Casa Wabi para registrar con videocámara y micrófonos los sonidos da cada una de las ocarinas creadas en el taller, se hicierons diferentes ensambles hasta crear sufuciente material para crear el video documental del proyecto.
Percusiones acuáticas
La artista trabajó con las mujeres del staff de cocina y limpieza de Casa Wabi junto con algunas otras habitantes de San Isidro Llano Grande. El objetivo de este proyecto fue crear un ensamble conformado por mujeres exclusivamente, donde ellas harían distintos ritmos creados por el golpeteo de sus manos sobre el agua, creando asi un ritual femenino donde se combinaran las fuerzas de todas las integrantes, para lograr una pieza sonora y visual, la cual se registró en video.
Durante la primer sesión se les presentó el proyecto a las participantes y se mostraron diferentes ejemplos de cómo en otras culturas las mujeres hacen ritmos acuáticos como actos ceremoniales. Se hizo un primer ensayo usando tinas de plástico para buscar los diferentes ritmos que se pudieran crear entre ellas y se pasó a la alberca de Casa Wabi para poner en práctica lo ensayado. En la segunda sesión se realizó la filmación del ensamble de percusiones.
_
Ver perfil del artista
..Clay ocarinas
Tania worked with the telesecundaria of Agua Zarca and with the 5th and 6th grade students of Miguel Hidalgo Elementary school during 2 sessions. The objective of the project was to create an ocarina assembly to record the different sounds to create an audiovisual material with these results. The two sessions were given at Casa Wabi. On the first session , the project was presented to the participants, they saw a documentary video about the types of ocarinas that exist in Mexico and the different sounds they produce, later they went to the production and manufacture of the ocarinas at the Álvaro Siza Barro Pavilion, where each student had the opportunity to create two ocarinas that created different sounds. After the burning of the pieces, the second session was to organized, then, the participants went to the Casa Wabi observatory to record with a video camera and microphones the sounds of each of the ocarinas created in the workshop, different assemblies were made to create sufficient material to create the documentary video of the project.
Aquatic percussions
The artist worked with the women of the kitchen and cleaning staff of Casa Wabi along with some other inhabitants of San Isidro Llano Grande. The objective of this project was to create an ensemble made up exclusively of women, where they would make different rhythms created by the pounding of their hands on the water, creating a female ritual where the strength of all the members would be combined, to achieve a visual and sound piece. During the first session the project was presented to the participants and there were different examples of how in other cultures women make aquatic rhythms as ceremonial acts. A first test was made using plastic tubs to find the different rhythms that could be created between them, then they went to the Casa Wabi pool to create what was tested before. In the second session, the percussion ensemble was filmed.
_