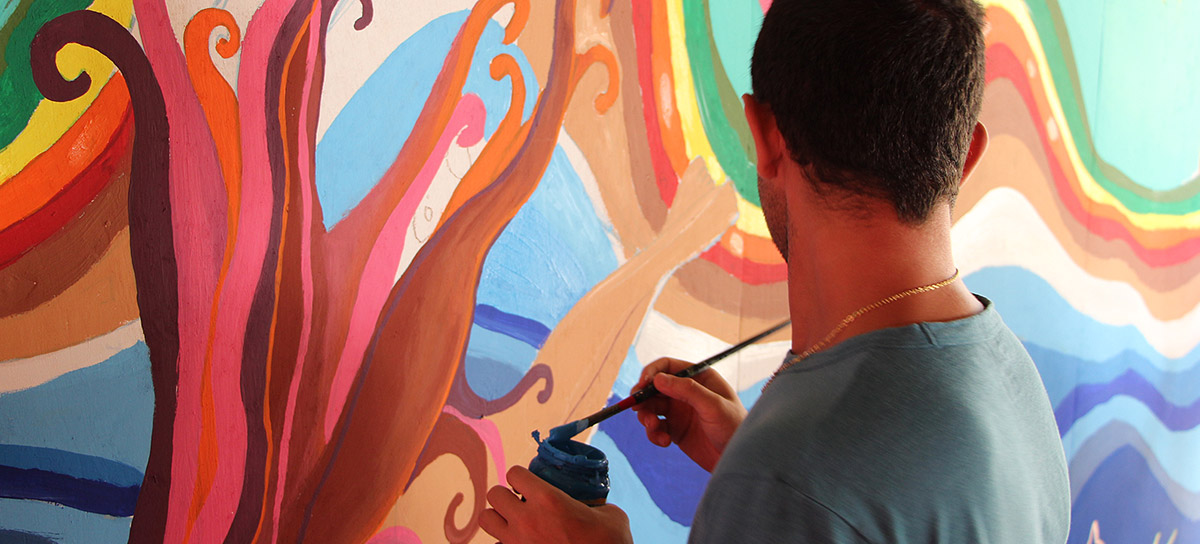 ....
­
Taller de sillas y mural.
Mohamad trabajó con las señoras del colectivo "Mujeres pescadoras del Zapotalito, la Flor del Manglar". La idea principal del taller era elaborar sillas con diseños únicos que retrataran su historia personal o algún aspecto que caracterizara su forma de vida. Durante la primer sesión el residente habló de su trabajo y cómo éste está relacionado con la creación de sillas. Se mostraron distintos diseños de sillas para ayudarlas a explotar su creatividad al momento de diseñar las propias. Se pasó entonces al diseño da cada silla, el cual contenía un dibuo de cómo sería el producto elaborado, acompañado por una descripción del mueble en cuestión, resaltando los rasgos personales que cada una quería plasmar. Al mismo tiempo le solicitaron al residente que elaborara un mural en conjunto con ellas para decorar su restaurante y se discutieron las ideas de diseño.
Las siguientes sesiones se dedicaron a la elaboración, confección y armado de las sillas, utilizando elementos reciclados y de desecho que se pudieran encontrar en la comunidad, para enseñarles a sacar el máximo provecho de cada elemento y para no comprar ningún material. Se usaron troncos, palmas, huacales, raíces de manglar y cocos para elaborar las sillas.
Se pintó el mural con la ayuda de Koba de Meutter, Keke Vilabelda y Sebastián Hoffman. El mural representa a una mujer que desciende del cielo hacia la laguna del Zapotalito, su cabello asemeja a los tentácules de un calamar, la parte de abajo está repleta de animales que sueles pescar las mujeres del colectivo y en la parte superior se encuentran los dos grandes astros que rigen las actividades de la pesca y el trabajo.

_
Chairs and Mural Workshop.
Mohamad worked with the ladies of the collective "Mujeres pescadoras del Zapotalito, la Flor del Manglar". The main idea of he workshop was to create chairs with unique designs that portrayed their personal history or some aspect that characterized their way of life. During the first session the resident talked about his work and how it relates to the creation of chairs. Different designs of chairs were shown to help them exploit their creativity when designing their own. Then they studied the design of each chair, which contained a drawing of what the elaborated product would look like, accompanied by a description of the furniture, highlighting the personal features that each one wanted to capture. At the same time they asked the resident to make a mural together with them to decorate their restaurant and the design ideas were discussed. The following sessions were dedicated to the elaboration, preparation and assembly of the chairs, using recycled and waste elements that could be found in the community, to teach them how to get the most out of each element and not to buy any material. Trunks, palms, crates, mangrove roots and coconuts were used to make the chairs.
The mural was painted, with the help of Koba de Meutter, Keke Vilabelda and Sebastián Hoffman. It represents a woman who descends from the sky towards the Zapotalito lagoon, her hair resembles the tentacles of a squid, the lower part is full of animals that are usually caught by the women of the collective and at the top are the two great stars that govern the activities of fishing and work.
_