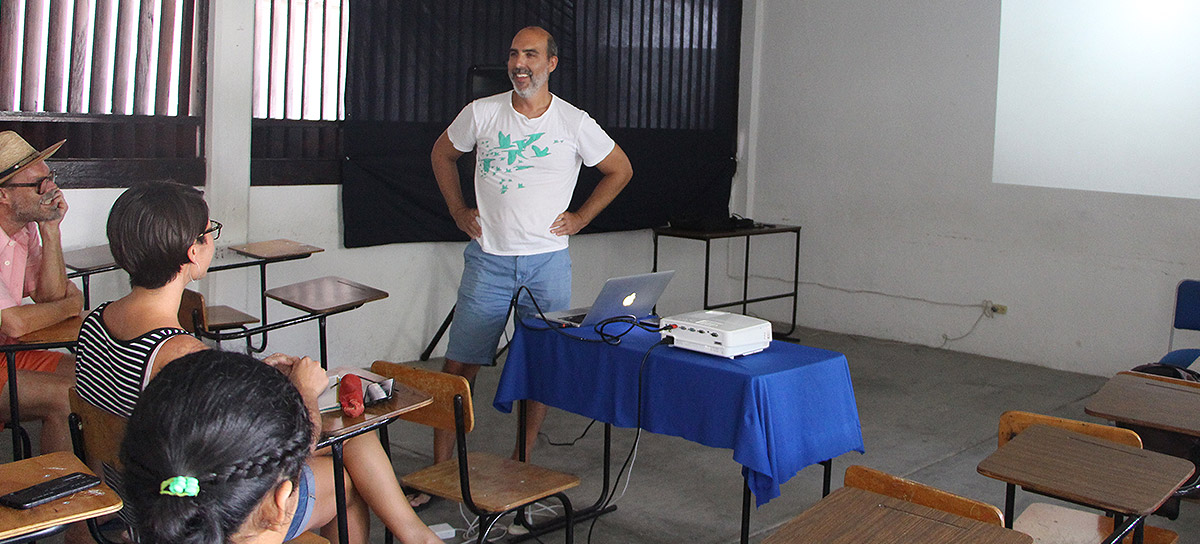 ....
Curso de Cine Documental Sensorial y Esperimental
Se trabajó con estudiantes de Comunicación de la Universidad Internacional del Pacífico de Puerto Escondido y entusiastas del cine documental. Se realizaron dos sesiones de trabajo, una en las instalaciones de la UNIP y otra en Casa Wabi.
El objetivo del proyecto fue introducir a los asistentes al cine documental sensorial que realiza el residente, tomando como base el modelo de cátedra que el imparte en universidades de todo el mundo. Se les mostraron extractos de películas realizadas por el residente y por integrantes de su taller. En la sesión realizada en Casa Wabi se les pidió a los asistentes que mostraran fragmentos de piezas documentales que hayan realizado previamente para tener un taller de trabajo donde el residente y los demás participantes hacían crítica del trabajo mostrado. Se hicieron ejercicios de percepción del espacio y de los sonidos a lo largo de las instalaciones de la fundación para que aprendieran cómo se puede jugar con la percepción del espectador a través de la imagen y el sonido.
_
Sensory and Experimental Documentary Film Course
We worked with communication students from Universidad Internacional del Pacífico in Puerto Escondido and documentary film enthusiasts. Two work sessions were held; one at the UNIP facilities and the other at Casa Wabi.
The objective of the project was to introduce attendees to the sensory documentary film made by the resident, based on the model of the chair that he teaches in universities around the world. They were shown extracts of films made by the resident and by members of his workshop. In the session held at Casa Wabi, the attendees were asked to show fragments of documentary pieces they had previously made to have a workshop where the resident and the other participants criticized the work shown. Exercises of perception of space and sounds were made throughout the facilities of the foundation so that they could learn how to play with the perception of the spectator through image and sound.
_