Alejandro García Contreras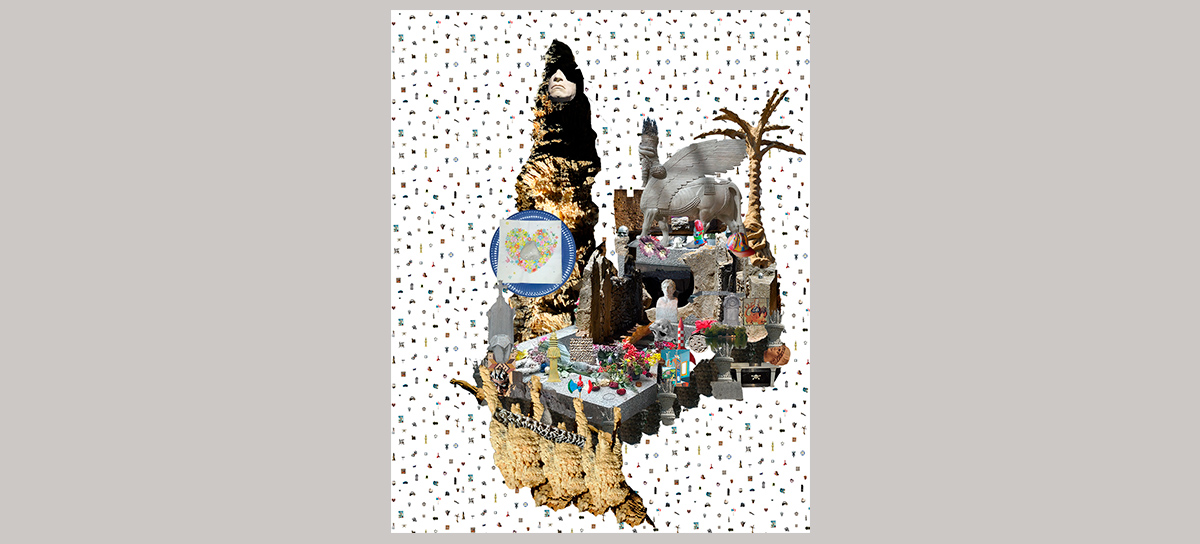 ....
(1982) Tapachula, Chiapas, Mexico.
Su labor creativa se caracteriza por la experimentación y diálogo entre distintos materiales y recursos técnicos. La temática de su obra está ligada con su personalidad. A través de sus proyectos artísticos explora tópicos y temas inspirados por la cultura popular contemporánea, el folklor mexicano, la muerte, el mito, el ocultismo y religión.

Estudió la carrera de Artes Visuales en la Escuela Nacional de Pintura, Escultura y Grabado ENPEG/La Esmeralda. En 2006 ganó el premio WTC ArtFest. Su primera exposicion individual "Stardust we are, stardust we will be" fue presentada en la galería Proyecto Monclova en 2007. Miembro de SHOWCAVE Gallery, en Los Angeles California, 2008-2012. De 2010 a 2011 dirige LAC Laboratorio de Artes de Chiapas. En 2011 se integro a "NETER", iniciativa dedicada a promover el trabajo de artistas mexicanos a nivel local e internacional. En 2013 fue invitado al programa de Residencias Atelliers de Creation de la Galería "Les Territories" en Montreal, Canadá. Ese mismo año presenta su primera exposición individual fuera de México, en PS Projectspace, (Amsterdam, Holanda). En 2015 "Nuevos Dioses", proyecto en colaboración con Josee Pedneault fue presentada en Typology Gallery en la ciudad de Toronto, Canadá, como parte del Scotiabank International Photo Festival 2015. Acreedor en dos ocasiones de la Beca FONCA/Jóvenes Creadores.
En Mexico ha presentado su trabajo en espacios como el Museo de Arte Moderno, Ex colegio de San Ildefonso, Museo Ex/Teresa, Centro Nacional de las Artes, Museo Universitario del Chopo, Museo de Arte Contemporáneo de Monterrey, entre otros. Al igual que en galerías comerciales como La Refaccionaria, Proyectos Monclova y Galería Luis Adelantado. Ha exhibido su trabajo en E.U.A., Suecia, España, Holanda, Canada, Inglaterra, Alemania, Dinamarca, Irlanda, Italia, Japón, Colombia y Peru.
_
Septiembre - Octubre 2016
alejandrogarciacontreras.com
..
(1982) Tapachula, Chiapas, Mexico.
His artistic practice is characterized by the experimentation and dialogue between different materials and technical resources. Through his art projects, he explores topics inspired by contemporary pop culture, folklore, classical myths, occultism and religions.
The theme of death, under its different forms, states and significations, is ubiquitous in his art practice.
He holds a Bachelor's degree in Visual Arts from the National Institute of Fine Arts in Mexico, City, (Instituto Nacional de Bellas Artes). Winner acquisition Artfest WTC in 2006. His first solo exhibition "Stardust we are, we will be" was presented by the gallery "Proyectos Monclova" in 2007. Member of "Showcave Gallery" in Los Angeles California. In 2009 he get the FONCA Jovenes Creadores Grant. In 2010 starts the "Laboratorio de Artes de Chiapas" in Tapachula, Chiapas.
Subsequently Joins "Neter" initiative dedicated to promoting the work of young Mexican artists locally and internationally. In 2013 he was invited to the "Ateliers of Creation II" residency program, project with the Gallery Les Territories, in Montreal, Canada. Same year presented "Watchtower and Herald of the Presence", his first solo exhibition in Europe, at PS Project Space, in Amsterdam, The Netherlands. In 2014 get, for second time the FONCA Jovenes Creadores grant.
His work is part of private collections in Mexico, USA, Canada and The Netherlands.
His work has been exhibit at U.S.A., Sweden, Spain, Netherlands, Mexico, Canada, England, Germany, Denmark, Ireland, Italy, Japan and Peru. In Mexico, at the Museum of Modern Art (Mexico City), Museo del Chopo (Mexico City), Antiguo Colegio de San Ildefonso Museum (Mexico City), Museo Experimental "El Eco" (Mexico City), Museum Ex-Teresa Arte Actual (Mexico City), Museo de los Pintores Oaxaqueños (Oaxaca, Oaxaca), MARCO Museo de Arte Contemporaneo de Monterrey (Monterrey, Nuevo Leon) Centro Cultural Jaime Sabines (Tuxtla Gutierrez Chiapas) Centro Nacional de las Artes (Mexico City), Galeria Proyectos Monclova (Mexico City ) Luis Adelantado Gallery (Mexico City) and La Refaccionaria (Mexico City).
_
September - October 2016